Waitsfield, VT (PRWEB) May 1, 2009 — A new paddling blog by the Northern Forest Canoe Trail, Inc. is sharing news, events and insights along its 740-mile blueway. The "Voices From The Trail" blog can be found at www.nfct.wordpress.com.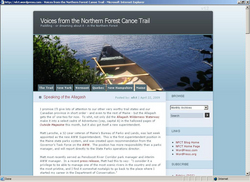 Northern Forest Canoe Trail "Voices From The Trail" blog homepage.
"We are excited to reach a broader audience with a paddling blog that aims to inform and connect people who have an interest in canoeing or kayaking the major watersheds of the northeast," said NFCT Executive Director Kate Williams. "We hope the blog will be an online gathering place for paddlers and nature lovers who enjoy sharing their adventures."
The "Voices From The Trail" blog will keep visitors up to date on NFCT events, waterway projects and volunteer opportunities through text, pictures and video. Visitors can leave comments about their own experiences on the NFCT or ask for suggestions about specific trail sections. The blog will also share stories from NFCT staff and the organization's partners along the trail.
The NFCT stretches from the Fulton Chain of Lakes in northern New York, across northern Vermont and into southern Quebec, Canada; to northern New Hampshire and the St. John River in northern Maine. Waterways include the Saranac River, Lake Champlain, Missisquoi River, Connecticut River, Androscoggin River, Rangeley Lake, Moosehead Lake and the Allagash River.
The trail opened to the public in 2006 and follows the traditional American Indian travel routes of the region through 45 towns and villages. It is the longest inland water trail in the northeast, and an American Canoe Association Recommended Water Trail.
To learn more about the Northern Forest Canoe Trail visit http://www.northernforestcanoetrail.org or call 802-496-2285.
About the Northern Forest Canoe Trail: The Northern Forest Canoe Trail links the watersheds of northern New York, Vermont, Québec, New Hampshire and Maine, and is a unique thread tying together the Northern Forest Region. The 740-mile water trail traces historic Native American travel routes through the rivers of this region, and is a living reminder our history, where rivers are both highways and routes of communication. Flowing with the stories of Native Americans, European settlers, and the development of mill towns and the timber industry, the Trail's rich heritage serves as a basis for widely accessible, environmentally-friendly tourism in many of the small communities along the route.